Build powerful mobile apps for your customers
Build mobile apps for your clients using the Choicely platform we've used to build mobile apps for the leaders in media, sports & entertainment. No coding needed.
1) Increase revenue, gain new customers
2) Support for your team & customers
3) Masterclass on how to build mobile apps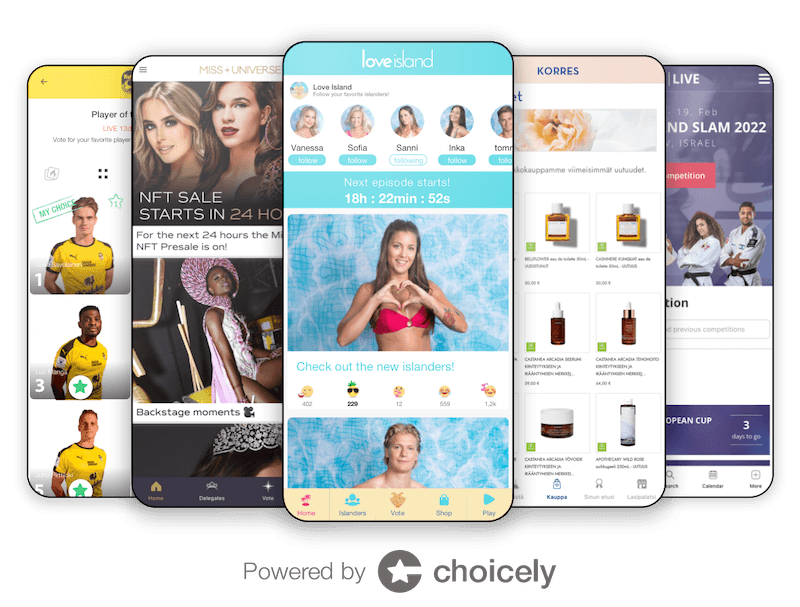 Choicely mobile app development platform
Until now, mobile applications are made by coding. Coding is hard to learn and a time consuming effort. Time, complexity and coding skills required increase the costs of a mobile app. We have created an easy way to do it.
Increase revenue and deliver value for your clients
Just drag and drop your ideas in the canvas of our studio with modular objects - like Legos. Our studio makes the code for you
Integrate more features using SDK's, API's, web views or develop your own custom functionalities
With Choicely studio, no need to code - simply compose.
We changed the game by simplifying the rules.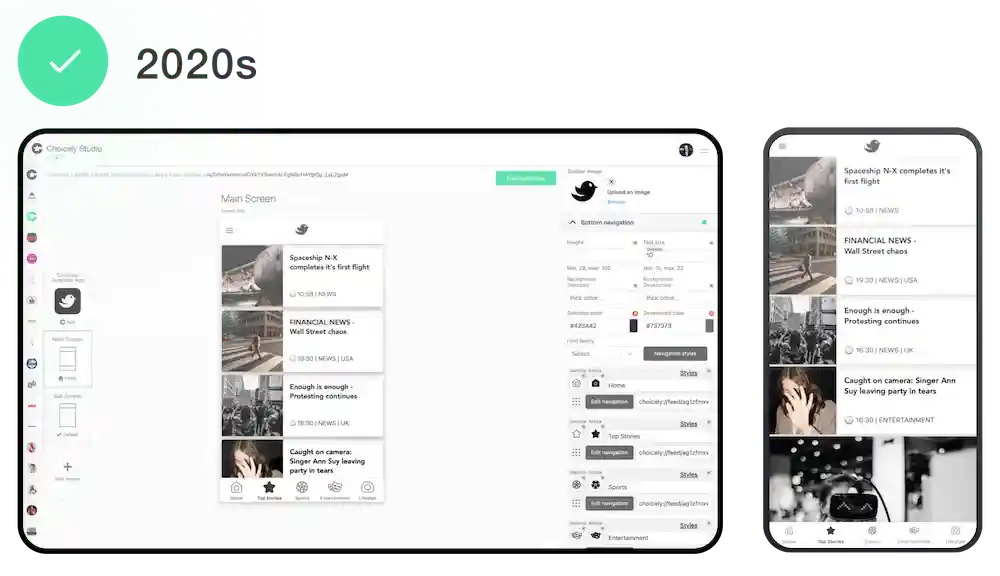 The reseller program to grow your business
Being able to deliver high quality mobile apps makes your business stand out. Choicely app platform enables your team to deliver app prototypes for your clients in the same time as you traditionally deliver Powerpoints and visuals. Working these prototypes into real functional mobile apps happens easily with a few workshops with the clients, and eventually the apps are ready for publishing in App Store & Google Play.
Choicely app platform offers a wide set of features and freedom of design. Adding custom features and content from other platforms is easy, and you can create custom functionality for any app yourself, removing any limits your may find using other platforms. This enables you to serve clients with low, medium & high budgets, and your sales team ways to adapt to a large variety of mobile app requests.
Fast to market

Cost reduction

Support
We reduce the time to market by 90%
Mobile apps need to be designed, coded, tested and released. We have reduced the time spent by 90%
Build an app at a fraction of the time & cost
Why ask your customers to pay for something that you can offer at lower cost and still make a profit? Want to learn how? Contact us today
We offer outstanding support to our partners
We offer training, pre sales support and of course ready to answer to the questions your customers might ask you