Engage your fans with a world-class mobile app
Getting a premium sports app live requires less time and money than you thought. In fact, you can get an app live in weeks rather than months.
This is thanks to our no code technology – no more coding from scratch.
Have us make a world-class mobile app for your organization. You only need to decide what you want to do with your app. 👇
Benefits of Choicely apps
Grow your revenue
✔️ Bring your merchandise store at the fingertips of your fans

✔️ Sell tickets and remind of upcoming games

✔️ Feature your sponsors
Engage your fans
✔️ Activate fans with voting, contests, surveys, polls, live streaming, statistics and more

✔️ Send timely push messages

✔️Increase your fan loyalty
At a minimum cost
✔️ Our price starts at 499€/month

✔️ Your team can edit the app themselves, onboarding and support are included

✔️ No hidden costs

✔️ Demo app at 3,990€
Useful features for a sports organisation
Ticket and merchandise sales
Live Streaming
Real time statistics and scores
Segmented push-notifications
Fan activations and gamifications e.g.

Voting for highlights
Player of the match
Ratings
Polls

Premium subscriptions
Newsfeeds with text, images and videos
Support tailored to your needs
Visual easy-to-use no-code studio to edit the app in real time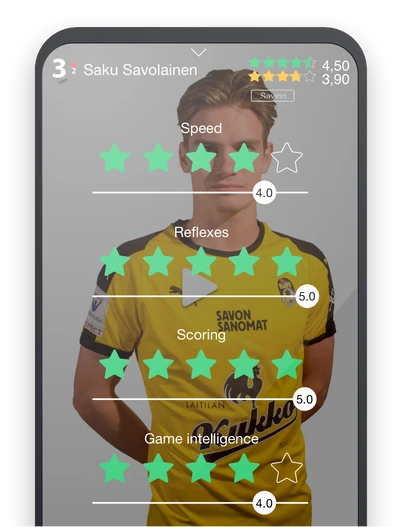 Make changes easily with an intuitive drag and drop app studio
Along with your app, you'll get access to Choicely Studio, an easy drag and drop visual studio. With that, anyone can edit (and create!) mobile applications.
We take pride in supporting our customers from design to rollout. Onboarding and customer support is included in all plans.
So when you want to make changes, you don't need to make a separate order to your IT provider, and get a separate bill on every edit. You can just do it, and the changes are applied in real time when you hit "publish".
TESTIMONIALS
What our customers say
"We wanted to offer people a channel where you can find all we offer: news, events, official information and of course all the social media channels. This has everything the figure skating fan needs!"
"Our app allows judokas around the world to follow competitions, analyze all judo statistics and stay up to date with IJF projects. We know we have made the right choice."
"Choicely allows us to engage with our members, fans and community at scale. This provides tremendous value to us and our customers."
POWERFUL FEATURES
Here's all the good stuff
Reliable system
Huge traffic? We can handle it! We are serving millions of users per day with no interruptions, no down times and all around the world, enabled by our content delivery networks and amazing tech
Integrations
Choicely studio can integrate with legacy systems, major software as services covering all areas from CRM, Sports Management software and much more
Distribution
Mobile apps made with Choicely can be published to App Store and Google Play at the same time, with no extra costs, with the touch of a button
Intuitive design
No need to know how to code only how to compose. Our visual editor allows anyone to create mobile apps by just drag and drop elements into the studio. Fast to market at low cost? One Choice: Choicely
Want to see Choicely in action?